Sku:
Vendor: Three Dog Bakery
Three Dog Bakery Puppy Butters Peanut Butter Sandwich Cookies Dog Treats, 11.8 oz
Unlock code to get Free shipping
All orders are dispatched the same business day!
Enjoy 10% off your order of $49+ | use code PAWS10
Three Dog Bakery is pleased to introduce Puppy Butters™, a new sandwich-cookie treat that will satisfy the peanut butter-loving pup in your life! These cookies look a lot like the human version of an iconic peanut butter sandwich cookie but rest assured, they're designed for your furry friend by Three Dog Bakery's pup-loving chefs with dog-safe peanut butter. Each sandwich cookie features two uniquely designed crunchy peanut butter cookies with creamy peanut butter filling inside. They're slow-baked to preserve the droolicious flavor and irresistible aroma. Not only are they a GRReat lick-worthy reward, but they're also a wonderful way to make your dog's day special. The resealable packaging keeps the cookies fresh until your pup is ready to enjoy them!
Ingredients
Enriched Wheat Flour, Sugar, Peanut Butter Butter, Palm Oil, Canola Oil, Whole Wheat Flour, Corn Starch, Sodium Bicarbonate, Soy Lecithin, Caramel Color, Ammonium Bicarbonate, Natural Flavor.
These treats are intended as a snack or reward and are not formulated to serve as a complete and balanced meal.

View full details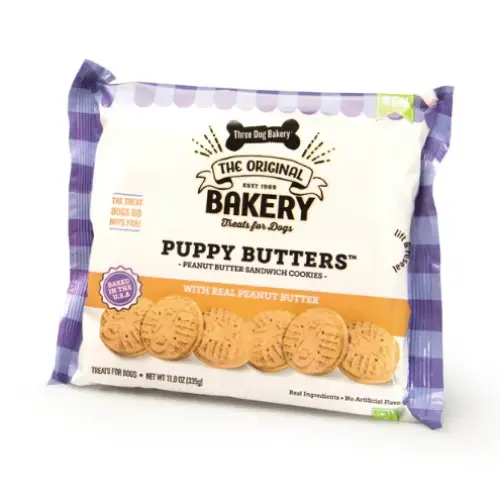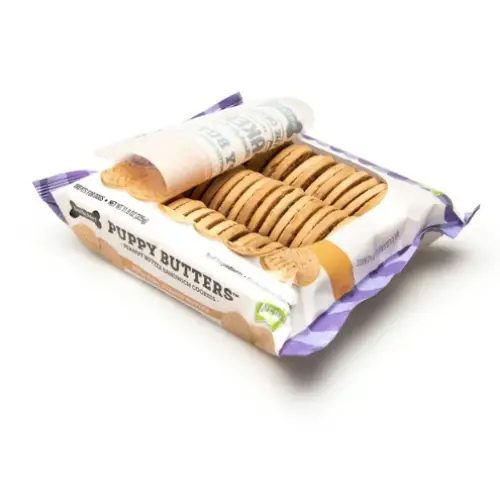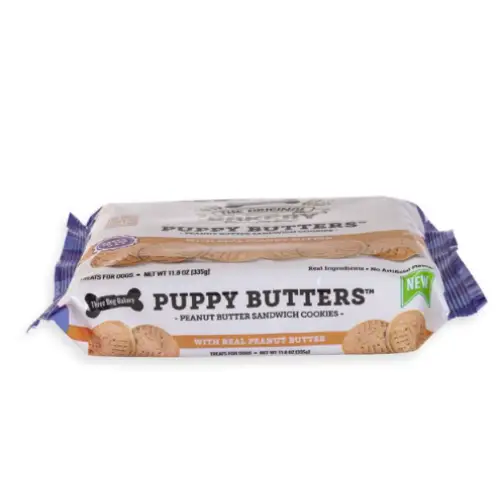 Three Dog Bakery Puppy Butters Peanut Butter Sandwich Cookies Dog Treats, 11.8 oz