Redbarn Naturals Braided Bully Sticks 12" Dog Treats, 2 count
Unlock code to get Free shipping
All orders are dispatched the same business day!
Enjoy 10% off your order of $49+ | use code PAWS10
Introducing Redbarn Naturals Braided Bully Sticks, the ultimate dog treat for your furry friend! Made with love, care, and only the finest ingredients, these 12-inch bully sticks will keep your pup satisfied and healthy.

Sourced from grass-fed, free-range cattle, you can feel confident that these treats are made with the highest quality meat. They are also free from any artificial flavors, preservatives, or colors, making them a wholesome choice for your pet's diet.

Not only are these bully sticks delicious, but they also offer numerous health benefits. The unique braided design promotes dental hygiene by gently scraping away plaque and tartar as your dog chews on them. This helps to maintain strong and healthy teeth, saving you money on expensive dental procedures in the long run.

Moreover, these bully sticks are packed with essential nutrients necessary for muscle development. Chewing on these long-lasting treats engages your dog's jaw muscles, helping to strengthen them over time. It's like a workout session for your canine companion!

To enhance the flavor and ensure your dog's utter enjoyment, our bully sticks are slow-roasted in natural juices. This process infuses each stick with a savory taste that will make your pup go head-over-paws for them. You can be sure that every chew will be an incredibly pleasurable experience for your furry friend.

So why wait? Treat your beloved pet to the finest quality dog treat available online. Choose Redbarn Naturals Braided Bully Sticks - the perfect combination of taste, nutrition, and love to keep your pooch happy and healthy.

Sourced from grass-fed, free-range cattle.
Made without artificial flavors, preservatives or colors.
Supports dental hygiene and muscle development.
A highly palatable, long-lasting chew.
Slow-roasted in natural juices for a flavor your dog will go head-over-paws for.
Ingredients
Beef Pizzle.

Caloric Content
3,061 kcal/kg, 91 kcal/piece

Guaranteed Analysis
Crude Protein 80.0% min
Crude Fat 1.0% min
Crude Fiber 1.0% max
Moisture 18.0% max
Treat Responsibly: Monitor your pet while feeding treats and give in limited quantity if your pet is not used to this treat. Do not allow your pet to swallow large pieces, as pieces could cause choking, stomach upset, or blockage. Hard chews could damage a pet's teeth. Treat should be larger than your pet's mouth. Always provide a fresh supply of drinking water.


View full details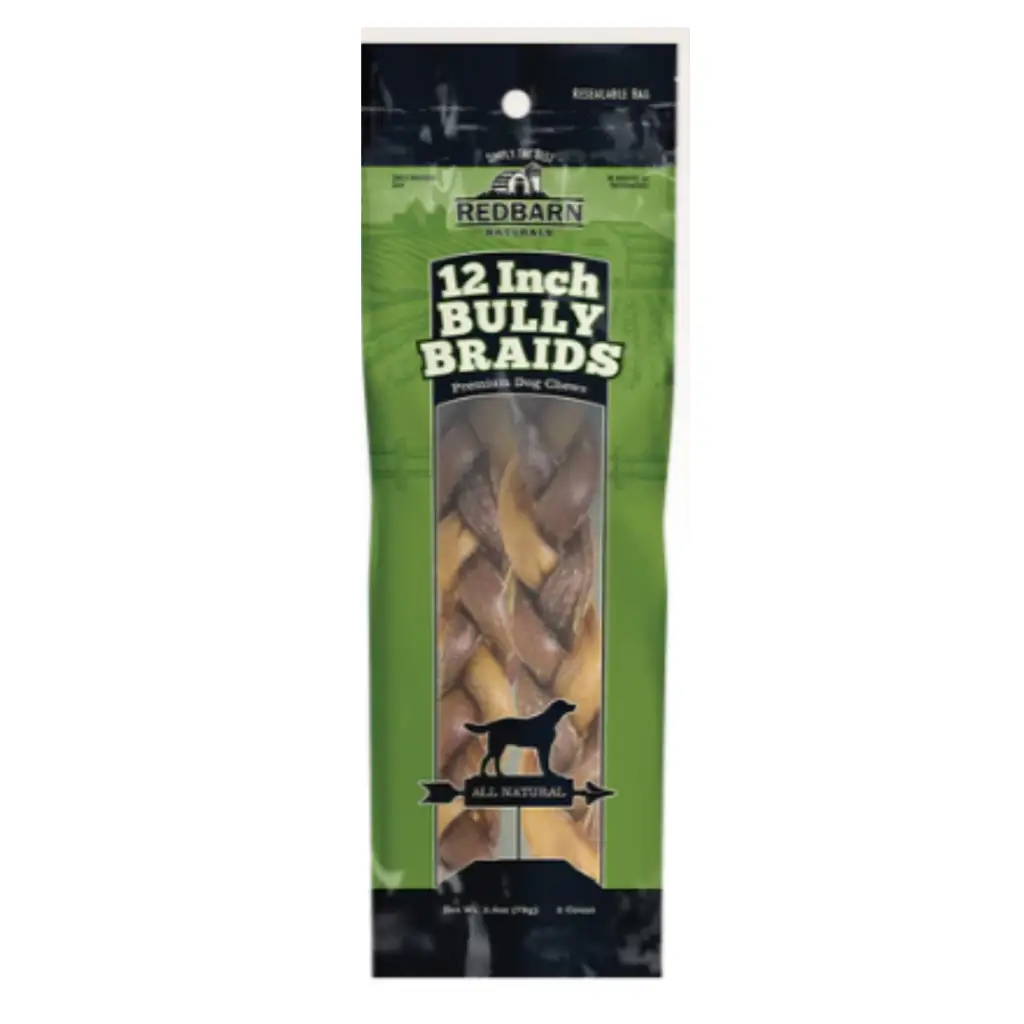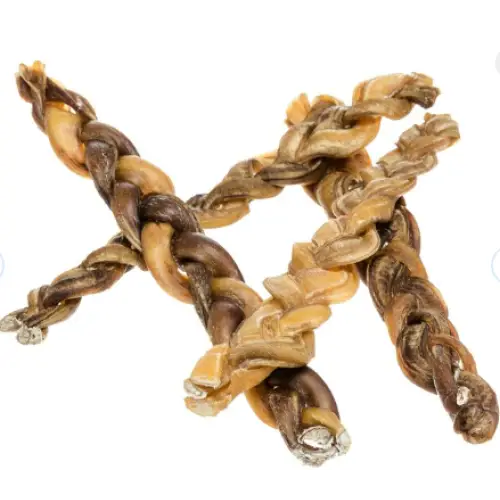 Redbarn Naturals Braided Bully Sticks 12" Dog Treats, 2 count