Redbarn Bully Bites Dog Treats, 10-oz bag
Unlock code to get Free shipping
All orders are dispatched the same business day!
Enjoy 10% off your order of $49+ | use code PAWS10
Introducing the Redbarn Bully Bites Dog Treats, your furry friend's new favorite indulgence! These delicious treats are carefully crafted to provide a wholesome and satisfying snacking experience for your pup. Sourced from grass-fed, free-range cattle, you can trust that these premium treats contain only the highest-quality ingredients.

One of the standout features of these Bully Bites is their commitment to natural goodness. Made without any artificial flavors, preservatives, or colors, you can be confident in offering your canine companion a treat that is as close to nature as possible. Say goodbye to unnecessary additives and harsh chemicals!

Not only do these irresistible bites taste amazing, but they also offer several additional benefits. First and foremost, they support dental hygiene, helping to reduce plaque and tartar buildup while promoting healthy gums. This means cleaner teeth and fresher breath for your beloved pet.

Furthermore, these treats are designed to support muscle development in dogs. Packed with essential nutrients and proteins, they contribute to your pup's overall strength and vitality. Whether your furry friend is a growing puppy or an active adult, these Bully Bites are an excellent addition to their diet.

We understand that palatability is crucial when it comes to treating your four-legged companion. That's why our Bully Bites are highly palatable, ensuring that your pup eagerly devours every bite. With their tender and chewy texture, these treats are perfect for training, rewarding good behavior, or simply expressing your love and care.

Invest in the best for your dog and choose Redbarn Bully Bites Dog Treats. With their natural sourcing, mouthwatering taste, and added oral and muscle support, these treats are a must-have for any dog owner seeking to provide their pet with the finest quality snacks available.

Sourced from grass-fed, free-range cattle.
Made without artificial flavors, preservatives or colors.
Supports dental hygiene.
Supports muscle development.
Highly palatable and made without the use of additives or harsh chemicals.
Feed as a treat. Always monitor your dog while rewarding with a chew. Swallowing pieces could cause choking or gastrointestinal blockage. Hard chews could damage a dog's teeth. Chew should be larger than your dog's mouth. Always supply fresh drinking water.


View full details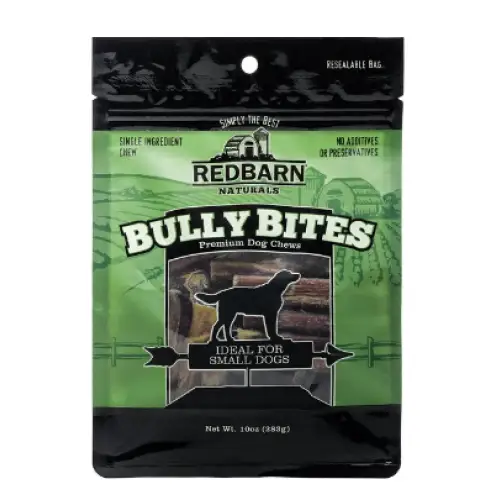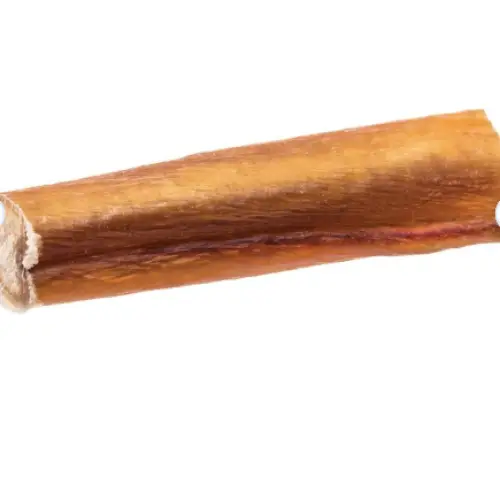 Redbarn Bully Bites Dog Treats, 10-oz bag